Upcoming Events
---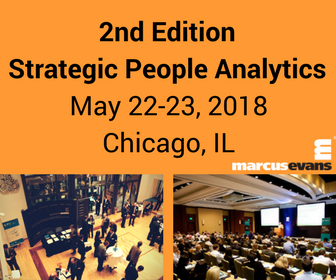 Event Name:
2nd Edition Strategic People Analytics
Event Date:
May 22-23, 2018
Event Location:
Chicago, IL
Website Link:
https://goo.gl/KXLR8T
​
Event Description:
This conference will bring together leading professionals in People Analytics, HR Analytics,
Workforce Strategy and HR Operations to highlight best practices in people analytics to inform strategic
decision-making and increase organizational performance. HR and Workforce Analytics leaders will
debate strategies, tools, and emerging trends to establish the most robust people analytics function,
glean the most actionable insights and ultimately propel their HR structure into the future. Hear key
practical case studies from companies such as Liberty Mutual Insurance, Silicon Valley Bank, The Clorox
Company, Biogen, Visa, and many more!
---

Event Name: Customer Insight & Analytics Exchange
Event Date: January 24 - 25, 2018
Event Location: London, UK

Event Description: The leading customer insight & analytics event in Europe for senior executives only.

Customer Insight & Analytics tools such as Quality Enhancement, Customer Segmentation, Predictive
Analytics, VoC, BI & Reporting, and more, are increasingly offering companies the competitive advantage
they need to transform their understanding of their customers and capitalize on an ever-connected
world.

With over 8 years of experience; the Customer Insight & Analytics Exchange is the invitation-only
meeting that gives you the opportunity to learn from leading companies on how to perform in a digital,
data and customer-centric world.

For more information or to register:
Tel: +44 207 368 9484
Email: exchangeinfo@iqpc.com
Visit: http://bit.ly/2yApZnG
---
---